Coleman Evergreen 6 Person Enclosed Weatherproof Screened Porch Cabin Tent Review
When we prepared this review of the Evergreen 6, we looked at data from one hundred and seventeen other six person cabin tents, examining more than sixty different facts. We also looked at the total cost including shipping & discounts at thirteen various retailers shops, to find the best bargain for you.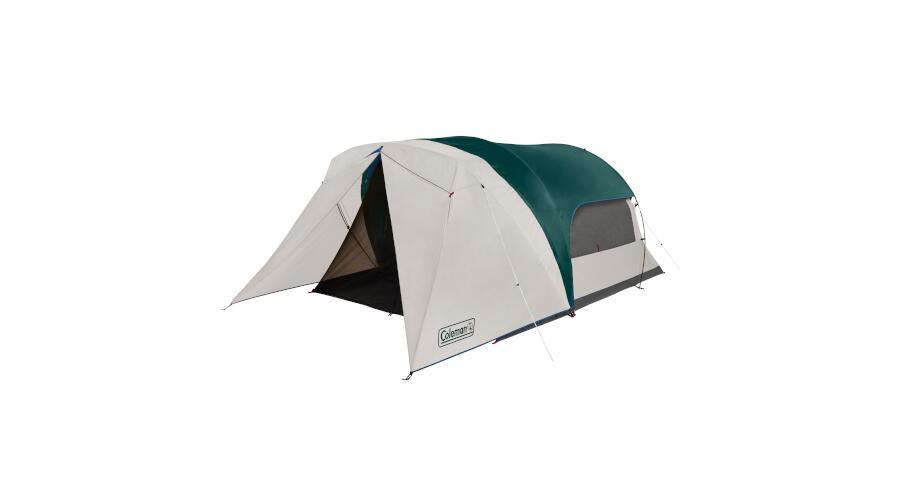 Coleman's Evergreen 6 Enclosed Weatherproof Screened Porch With the Fly Open
In this report, we will show you:
A recap of the customer reviews we found.
A detailed overview of the features, materials and dimensions.
The Pros and Cons about the tent.
The Lowest Price that we Found!
Here at optimumtents.com all our reports are built with the aid of our individual dataset of more than 1,000 shelters, that are sold in America. Our goal is to give you an honest report and our own unique rating based on the data, along with the best value and lowest price we could find.
Best Value & Low Price

Fast 2 Day Shipping Available to Most Locations
FREE SHIPPING
** Affiliate disclosure **

Quick Navigation

Reviewed by: Neale
Rating: 4.8 STARS
Manufacturer: Coleman
Model: Evergreen Enclosed Weatherproof Screened Porch
Year Introduced: 2020
MPN: 2000035610
Sleeping Capacity: 6 Persons
Designed For: 3 Seasons
Best Use: Car Camping
Type: Cabin Tent
Available in: Other Sizes
MSRP: $219.99
Not found Not found Not found Not found Not found Not found Not found Not found
---
Evergreen 6 Pictures and Videos
Click on an image or video to enlarge them!
---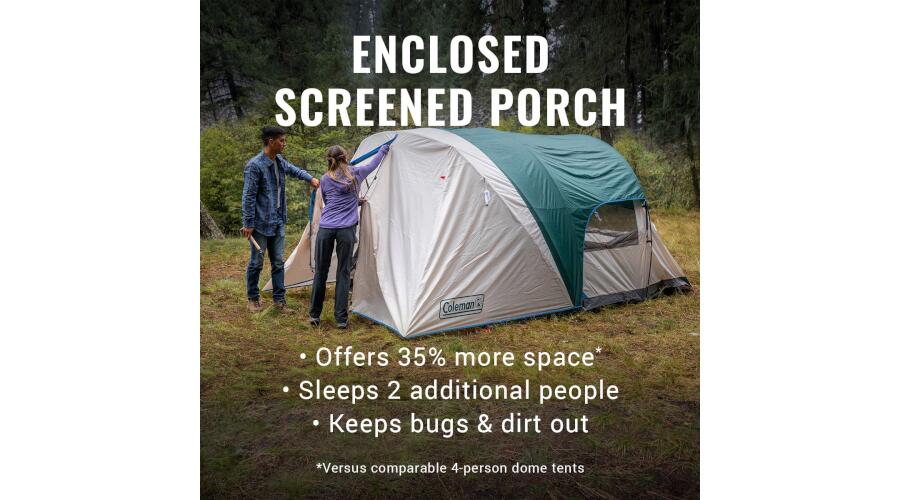 Coleman Evergreen 6 Enclosed Weatherproof Screened Porch With the Fly Off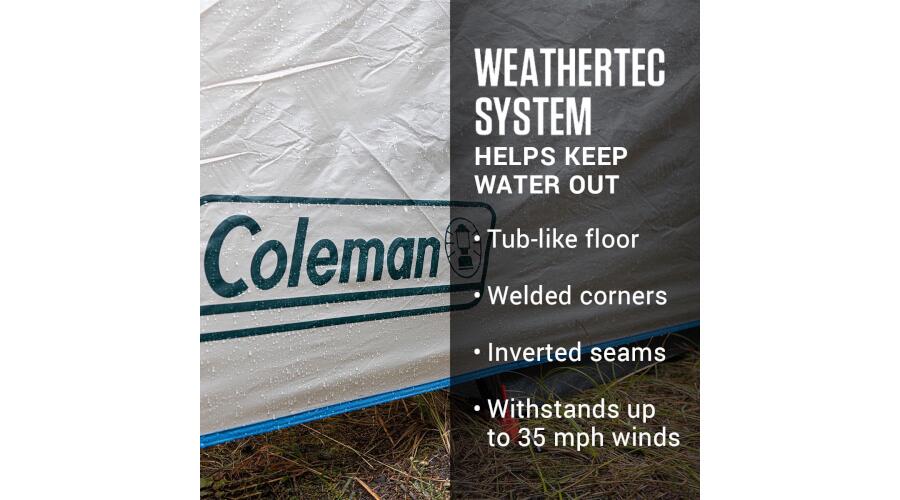 Fly Closed Evergreen 6 Enclosed Weatherproof Screened Porch

A video about the Evergreen 6 tent.

Another video about Coleman's tents.
Features
---
Freestanding: No
Color: Green, Gray
Number of Rooms: 1
Number of Windows: None
Number of Doors: 1
Zippers: Zipper Cuff
Storage Pockets & Gear Loft: Yes, N/A
Mesh Roof & Walls: Yes, Half
Footprint: Not Included

Materials and Extras
---
Inner Walls: Polyguard Polyester
Half Fly: None
Floor Materials: WeatherTec Systems Patented Welded
Pole Material: Steel & Fiberglass
Number Of Poles: 3
Pole Dimensions: 11mm
Guy Lines & Guy Outs: Yes, Yes
Stakes: Yes

Dimensions
---
Floor Area: 130 sq. ft.
Center Height: 6 foot. 4 inches.
Packed Weight: 30 Lbs 0 Oz
Trail Weight: 30 Lbs. 0 Oz.
Packed Size: N/A
Number of Vestibules: None
Screened Areas:
Awnings: None
Tent Set Up
Easy 10-minute setup with color-coded 3 pole and sleeve system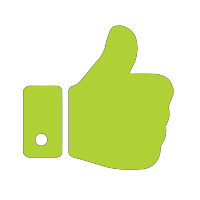 Summary: Favorable Reviews
Campers who bought the tent said that: I camped with it once when there was no rain, and it was amazing to sleep in, it is so spacious. We have been camping three times already with no issues at all. This tent, however, really does set up in 10 minutes! I love that you can remove the cover during the day to let the breeze in with all the open screened-in windows. There is plenty of room inside the tent for us to sleep comfortably on two queen beds, and ventilation was excellent. The mesh roof without a rain fly allowed us to stare at the Milkyway and stars all night. The front covered porch is super cute and perfect for setting-up a couple of chairs and enjoying your morning.
---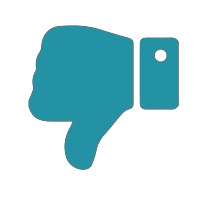 Summary: Unfavorable Reviews
People who used the tent said that: The rain fly does not cover enough of the tent, so the water was seeping through the seams that connected the floor and the tent's walls. The rain fly does require a fourth pole, but you can add that in less than 2 mins.
---
The Evergreen 6 Enclosed Weatherproof Screened Porch has one door and a maximum center height of 6' 4, which is a tiny bit smaller than the average height of the 117 different 6 person tents we have studied. With 130 square feet of room inside, it is significantly larger than some other 6-person tents, and it easily offers enough room for you and, up to five other campers throughout the 3-seasons, this tent is suggested for use in, larger tents similar to this one generally make an excellent choice for campers who enjoy having plenty of space inside of their tent.

One of the sweet things about cabin tents is, that the sides are near vertical making for a sizeable interior, this allows for a lot more headroom at the sides inside, making it feel much larger than a dome tent, in general the floor areas are quite large compared to other tents. In general cabin tents are used by people going on a camping trip in a car or a truck as they are quite heavy when compared to dome tents. It dose though make them well suited to colder months.
Below you can check out an account of the tent's strongest and weakest points.
Click or Tap on the Tab you Want to See!
PROS
Plenty of space. With a center height of 76 inches (more than 6 feet) and a floor area of 130 square feet, the Evergreen gives you a lot of space. Most people can stand inside the tent without ducking their heads.
Internal storage. It is nice to see Coleman has added a gear loft and pockets in the interior to store some of your stuff.
Has a screened area. Having a screened area that is separated from the main body of the tent is a big plus.
Breathable. The Evergreen's interior uses a mesh fabric on the inside of the tent, and this helps maximize the flow of air. With the extra ventilation, and this tent is great for use in the summer.
Plenty of Positive Reviews The Evergreen 6 has Lots of excellent Reviews
Fantastic Ratings The Evergreen 6 has some of the best ratings of all the tents on optimumtents.com
Available in other sizes. Coleman has also made this model available in Other Sizes.
Low price. It is a great deal for a 6 person cabin tent that provides this much room. Not a lot of tents available on the market give this level of quality for only $219.99
CONS
Lacking in Headroom. With 5% less headroom than similar sized tents, one can see how this could be a negative thing for some campers.
No windows. With no windows it is not simple to keep the tent ventilated on a hot summers night.
Only one room. The Evergreen is recommended for 6 campers, some other tents of a similar size have more than one room allowing for a little more privacy.
No Vestibules. If you want to keep your dirty shoes, clothes, and backpacks protected from the elements, you must store them inside the tent.
Rainfly does not totally cover the tent body. The rainfly only covers the ceiling and part of the tent body from the top. Meaning it might not protect against heavy rain.
Uses Fiberglass poles. Even though the poles are comprised of steel & fiberglass. Using even some fiberglass with a big tent like the Evergreen 6 could possibly lead to problems, if there were to be extreemly windy conditions.
Heavy. Even though heavy is not in it self a negative, it is worth noting that the Evergreen 6, weighs 30 pounds and has a packed size of none inches. evidently it is designed for camping with a vehicle and would not be super simple to set up on your own.
Footprint not Included. There is no included footprint, The floor may be made of WeatherTec systems patented welded but it is still best to protect it further with a footprint, more so on rough terrain.
The owner of this website, optimumtents.com, is a participant in different affiliate advertising programs, including the Amazon Services LLC Associates Program, an affiliate advertising program designed to provide a means for sites to earn advertising fees by advertising and linking optimumtents.com to Amazon properties including, but not limited to, amazon.com, endless.com, myhabit.com, smallparts.com, or amazonwireless.com. and also rei.com and moosejaw.com Full Disclosure