Browning Camping Boulder 2 Person Dome Tent Review
Quick Navigation

Reviewed by: Neale
Rating: 5.0 STARS
Manufacturer: Browning Camping
Model: Boulder
Sleeping Capacity: 2 Persons
Designed For: 3 Seasons
Best Use: Bicycle & Motorbike Camping
Type: Dome Tent
MSRP: $219.99
Current Price: $193.48 info_outline
You Save $26.51 (12%)
Quick Navigation

Reviewed by: Neale
Rating: 5.0 STARS
Manufacturer: Browning Camping
Type: Boulder
Sleeping Capacity: 2 Persons
Designed For: 3 Seasons
Best Use: Bicycle & Motorbike Camping
Type: Dome Tent
MSRP: $219.99
Current Price: $193.48 info_outline
You Save $26.51 (12%)
Quick Navigation

Reviewed by: Neale
Rating: 5.0 STARS
---
Boulder 2 Pictures and Videos
Click on an image or video to enlarge them!
---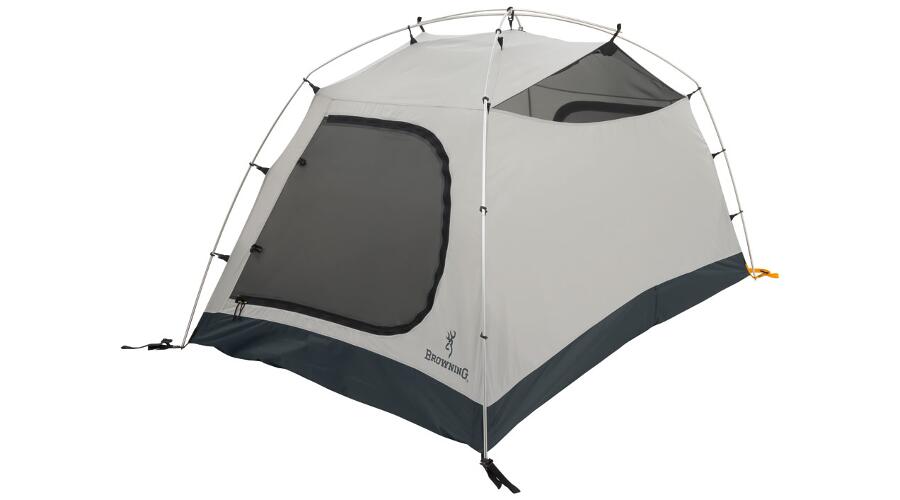 The Browning Camping Boulder 2 With the Fly Off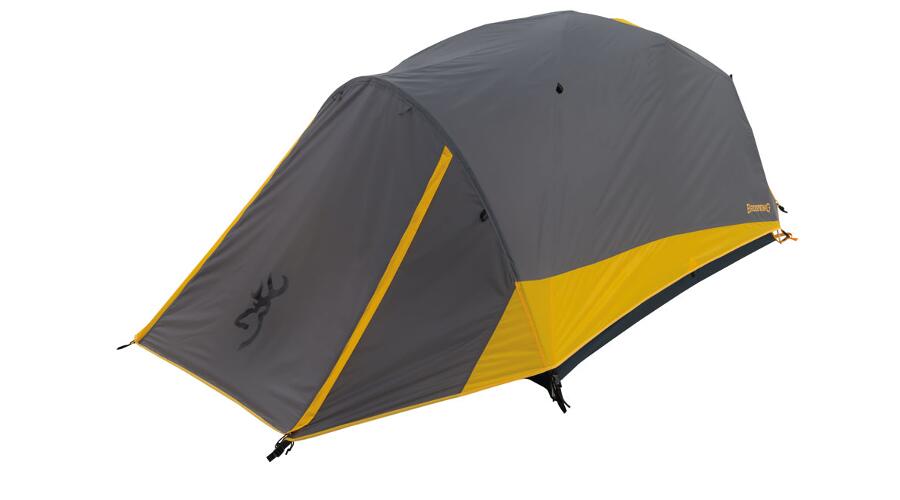 Fly Closed on the Boulder 2

A video associated with Browning Camping's Boulder 2

A complementary video about the Boulder 2 and Browning Camping tents.
Features
---
Freestanding: Yes
Color: Gray and Yellow
Number of Rooms: 1
Number of Windows: 2
Number of Doors: 2
Zippers: #8
Storage Pockets & Gear Loft: Yes, Yes
Mesh Roof & Walls: Yes, No
Footprint: Not Included, Available Separately

Materials and Extras
---
Inner Walls: 75D 185T Breathable Polyester Taffeta
Full Fly: 75D 185T Polyester Taffeta
Fly Waterproof Ratings: 1500 mm
Floor Materials: 75D 185T Polyester Taffeta
Floor Waterproof Ratings: 5000 mm
Pole Material: Aluminum
Number Of Poles: 4
Pole Dimensions: 8.5mm & 9.5mm
Guy Lines & Guy Outs: Yes, Yes
Stakes: 7075 Aluminum

Dimensions
---
Floor Area: 33 sq. ft.
Center Height: 3 foot. 9 inches.
Packed Weight: 8 Lbs 6 Oz
Trail Weight: 7 Lbs. 6 Oz.
Packed Size: 7 x 20 inches.
Number of Vestibules: 2
Total Vestibule Area:
19.00 sq. ft. (2 x 9.5 sq. ft.)
Screened Areas: None
Awnings: None
Tent Set Up
The Boulder is quick and easy to assemble with its freestanding design with pole clips that quickly snap over the aluminum poles.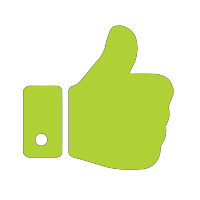 Summary: Favorable Reviews
This tent has a very spacious interior. It is relatively easy to set up as well as takedown. The tent works very nicely for most camping needs. It comes highly recommended.
---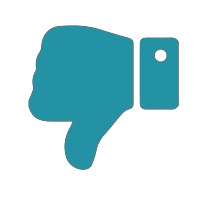 Summary: Unfavorable Reviews
Browning is not known for manufacturing tents, so balanced reviews are scarce. The price may give indications towards the quality, so there may be minor compromises in terms of materials to arrive at this price point.
---
The Boulder 2 has two windows and two doors and a peak center height of 3' 9 which is a tiny bit smaller than the average height of the 190 various 2 person tents we have looked at. With 33 square feet of room inside, it is a tiny bit smaller than some other 2-person tents, and it could be a little cramped for you and, another camper during the whole of the 3-seasons this tent is suggested for. Smaller tents like this one generally make a fantastic choice for campers who enjoy spending heaps of time outside exploring the great outdoors.

Many of the cool things about dome tents are, that they are for, the most part lightweight, making them simple to carry around. In near all instances, tents used for backpacking are of the dome type. They are usually, freestanding and very easy to set up. In good weather, you can do without guy lines and stakes 'not that this is suggested' Dome tents are without a doubt the most commonly seen of all the different types of tents you will find when camping. They tend to do better in storms than other types, allowing water to easily slide off the sloped walls, unlike cabin tents that have flat roofs, resulting in the water pooling on the roof. The most straightforward dome tent should have a rectangular floor, slanted walls two poles which converge in the middle of the roof. Due to the way they are made, it is usually considered that they are ideal for up to a maximum of 6 campers.
Down below, you can find a list of the tent's pros and cons.
PROS
Freestanding. The Boulder can support its own weight on any terrain. It does not even have to be staked down in most cases. But in case of strong winds, it is always best to secure it to the ground with the included steel stakes and guylines.
Vestibules. Having two vestibules. Gives you a place to store shoes and other items that can get dirty, muddy, this is a huge plus.
Has Gear Loft. It is good to see Browning Camping adding a gear loft in the interior to store some of your things.
More than one door. With 2 doors, it is simpler to get in and out of the tent, in the middle of the night if needed.
More than one window. With 2 openings it is easier to keep the tent cool on a hot summers night.
Durable, water-resistant floor. The floor material is 75D 185T polyester taffeta, which is a substantially thick and high-strength fabric. Meaning the base is not prone to rips and punctures. Also, the material has a 5000 mm waterproofing rating, which is very good for most circumstances.
Breathable. The Boulder's interior uses a mesh fabric on the inside of the tent, and this helps maximize the flow of air. With the extra ventilation, and this tent is great for use in the summer.
The rainfly completely covers the tent body. The rainfly covers the entire body of the tent from the top to the bottom and has a waterproof rating of 1500mm. Meaning it will easily protect you against heavy rain.
Great Ratings The Boulder 2 has some of the best ratings of all the tents on optimumtents.com
Low price. It is a great buy for a 2 person dome tent that provides this much room. Not a lot of tents available on the market give this level of quality for only $193.48 info_outline
CONS
Not roomy. With a floor area of 33 square feet, the Boulder 2 is smaller than quite a lot of the 190 other 2 person tents we have looked at.
Lacking in Headroom. With 6% less headroom than similar sized tents, one can see how this could be a negative thing for some people.
Footprint not Included. There is no included footprint, there is one sold separately specifically for the Boulder 2 footprint The floor may be made of 75D 185T polyester taffeta, it is still though best to protect it further with a footprint, especially on rough terrain.
A little heavy for backpacking. Even though the Boulder 2, looks like a small tent, it is not ideal for backpacking as it weighs 8 pounds. This is quite a lot more than many other backpacking tents
Sloping walls. Even though Dome tents have heaps of qualities to be positive about. The sloping walls do tend to make it all the more smaller inside.
Storage Space. Due to the size of the tent, one cannot store a lot of stuff inside..
---
The owner of this website, optimumtents.com, is a participant in the Amazon Services LLC Associates Program, an affiliate advertising program designed to provide a means for sites to earn advertising fees by advertising and linking optimumtents.com to Amazon properties including, but not limited to, amazon.com, endless.com, myhabit.com, smallparts.com, or amazonwireless.com. Full Disclosure