What are the best tents under $100 to buy?
Page Sections:
Top Rated
|
Best Value
|
Largest
|
Cheapest
|
Most Popular
|
Best of the rest
Of the 100 plus tents I have looked at 29 can be bought for less than $100
.
Finding a decent sized tent at this price is a bit of a challenge, it is possible though.
Some of the tents below are heavily discounted making them great deals.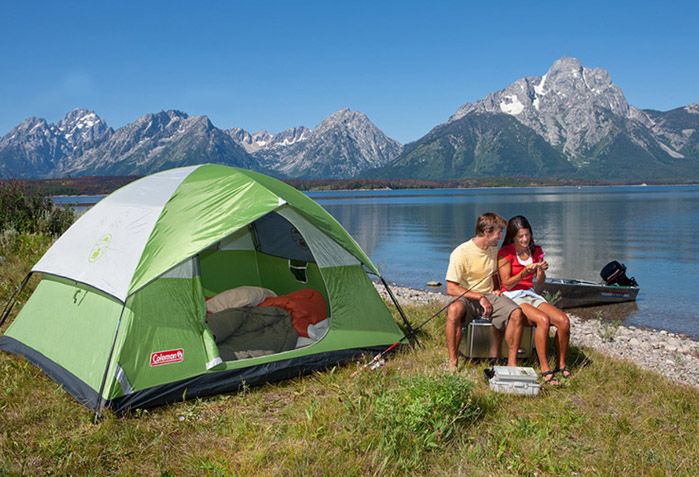 Top rated tents below $100
Eight of the tents have a very good overall score
"much better than the average for all tents"
Two of them easily qualify they both have lots of reviews, more than 800 in total. Both are made by Coleman.
The 3 man version is small, real small, forget about standing room this is kneeling room only. Coleman's Sundome 4 is a little better and probably deserves consideration for very small families or couples wanting to try camping for the first time without breaking the bank. The 4 person tent is actually $1.97 cheaper, with 28% more space and an extra 7" of headroom, making it very easy to choose the larger one. The
Sundome 4
pictured above is currently just $58.36
The larger Sundome 6 that is surprisingly, only
$82.12
is covered in more detail below in the
next section
devotet to the largest tents under $100
Best value tents below $100
The tent with the biggest dollar savings is the
Zephyr 1
reduced $103.96 along with very good ratings, makes it excellent value at its current price. Another is the
Mystique 1
it too is nicely discounted 55% offering you a saving of $88.01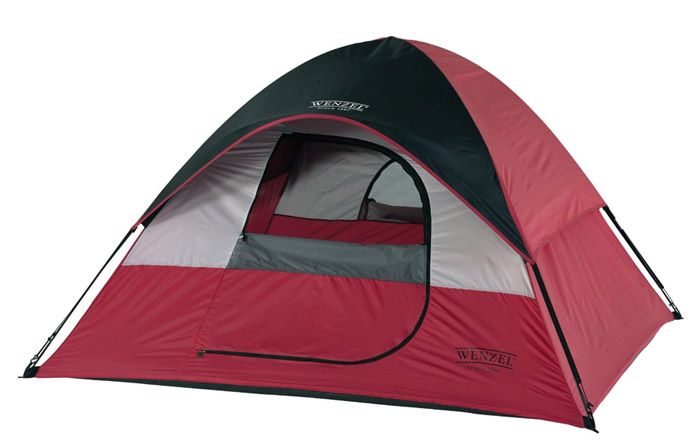 Wenzels
Twin Peaks Sport Dome
pictured above
, made by
Mountain Trails
looks good even at the MSRP of $69.99 discounted 29% makes it even better value for money for smaller families, looking for a quality tent with good ratings.
It is pretty rare to find the
Sundome 6
for less than $100
With 100 sq feet of sleeping space it looks very attractive at this price, the six feet of standing room is also nice. Discounted to $82.12
makes it a much better deal than the Sundome 4 on a dollar per square foot basis if your looking for a little more space or have a growing family, it would be an excellent choice.
Largest tents below $100
Five tents have 6 feet of standing room or more two of these have more than 100 square feet of living space. Largest of them all is the
Blue Ridge
with 117 square feet along with 6 ft. 00 inches of headroom made by Wenzel. The 8 person Red Canyon, pictured below is quite large and represents great value, even when it is priced at a little more than $100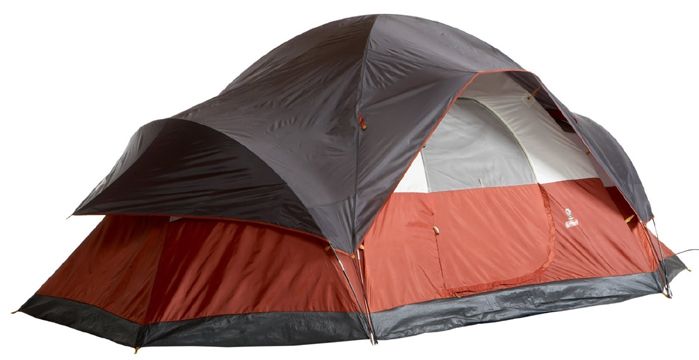 Another tent that looks at a quick glance worth passing over, is the
Salmon River 2 room
dome tent, If you look at the reviews in detail you will see that
most all are excellent testimonials
only a few campers have negative things to say
mostly about it's size and the rain fly.
Good for 6 people? Probably not! 3-4 people will have more than adequate space and a little privacy if they wish. Currently just $95.70
makes it a good option for small families.
Coleman's deeply discounted
Sundome 6
gets another mention here because it also drops into this larger group of tents.
Last of the five is the
Branch Canyon
made by Texsport with just a few ratings it is hard to make any kind of judgment about this one. If you are searching for a
cheap large tent
the other four appear to be better choices.
Cheapest family tents
Thirteen of the twenty-nine tents can be purchased for less than $75
all offer enough space only for the smallest of families.
Coleman makes four of them. Even though the
Sundome 3
is one of the cheapest tents available today "with a good overall score" at $60.33
It is hard to choose it when the
larger Sundome models cost only a little extra
for considerably more space.
Another Coleman tent is the
Hooligan 3
bigger than the Sundome 3 this tent gets a vote for very small families wishing to get away backpacking for a long weekend. A slightly a larger version pictured below is available it would be
ideal for longer hiking or cycling trips.
I have covered
Coleman's Hooligan Tents
in more detail on a page all about Coleman's Tents.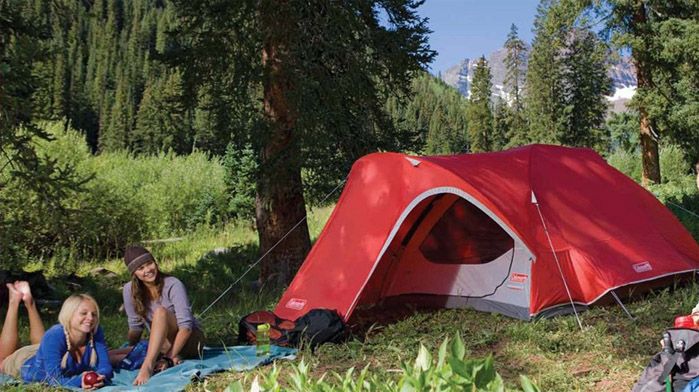 The
Twin Peaks Sport Dome
has already been mentioned above in the
best value
section.
On sale at $49.95
It is hard to find anything wrong with this tent.
If you are in the market for a small tent for whatever reason.
Last of the thirteen is the
Ridgeline
made by Wenzel pictured below. It is only $89.72
It's overall score is well above average,
lots of the 200+ reviews get 5 stars.
Yes it's a small tent offering a lot of value just like the other twelve.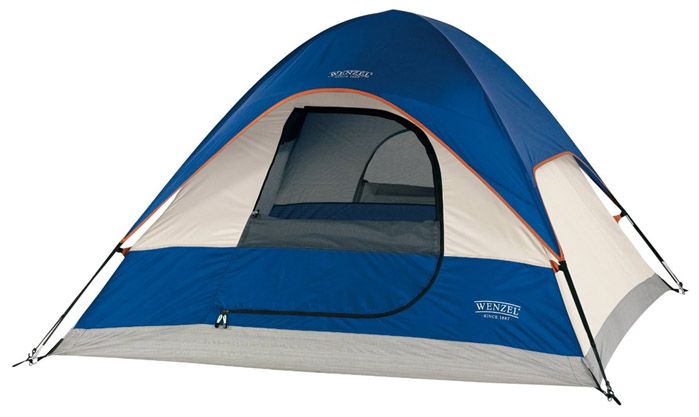 Quite often when one thinks of cheap the next thought is usually "poor quality" none of these thirteen tents above do anything but excel in all areas "except size" Apart from the Sundome 3
Any of the other twelve would make great choices.
Most popular tents below $100
By far the most popular tent is the Sundome 4 with more than one thousand reviews,
lots of buyers have given it five stars,
the next best selling is the Ridgeline it has more than 200 reviews, both have a great overall score.
Of the twenty-nine tents, ten have more than 100 reviews five of these are made by Coleman three of them are the dependable entry-level
Sundome model
With two large windows an awning and a quick 15 minute advertised setup time, these small but spacious tents are great for people new to camping not wishing to commit a whole lot of cash. Another is made by Wenzel
"it is very affordable"
the
Ridgeline
also has lots of happy owners who rave about it.
Another worth mentioning is the
One Touch Set Up
unlike the others above it is not made by a well-known manufacture, which makes it jump out from the rest. All of these eleven tents have had favorable mentions elsewhere on the page.
It is hard to not include Coleman's hugely popular
4 person Instant Tent
"pictured below"
just a tad more than $100
On a good day you can ocasionally find it for less than $100.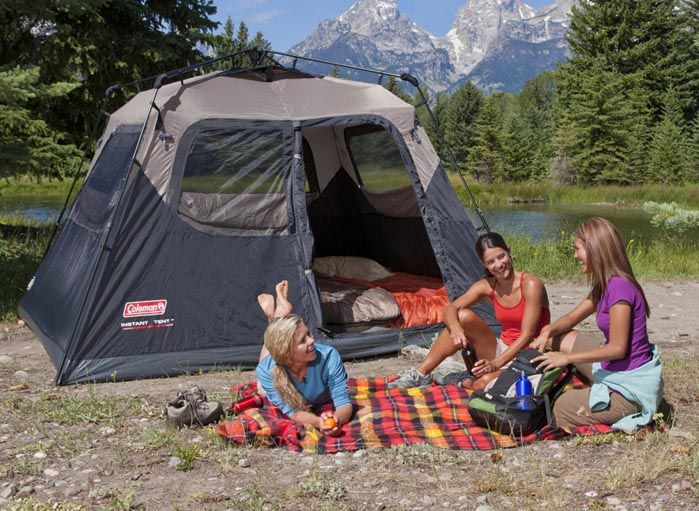 Best of the rest
Two other tents do not get a mention above, the
Automatic Instant Pop Up 6
"pictured below" is quite large in size with 78 square feet of space. It only has four feet nine inches of headroom though. With just a few reviews some of which are claiming
"it easy to setup
and others
the opposite"
it would be hard to choose this tent based on the information available.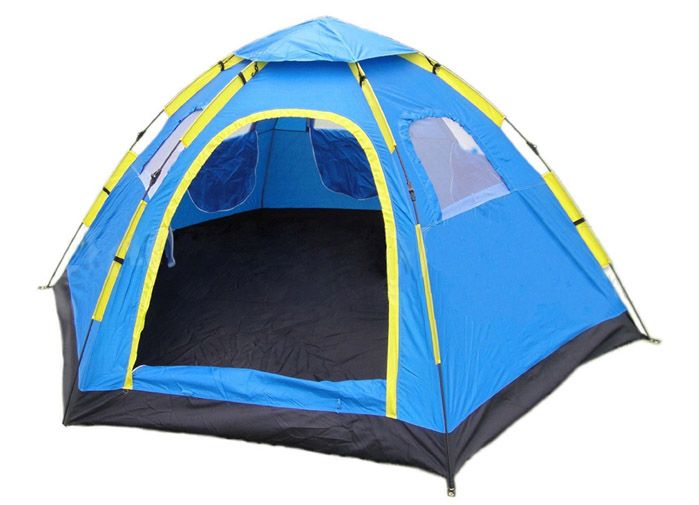 The other one are all what one could call
medium sized tents.
The
Cedar Ridge Rimrock 4
I was not sure who
"Cedar Ridge"
was, it turns out that they are
ALPS Mountaineering
newest brand addition, this caught my attention as ALPS are renowned for making high quality tents for serious all year round camping. As you can see in the video underneath ALPS have applied what they know to this new budget line.
A decent sized "64 square foot" ALPS backed tent for $82.10
now that is a good deal!
The initial reviews are excellent!
"super easy to set up in the pitch dark"
"No leaks or anything"
"set this up in 10 minutes by himself"
As ALPS are publicly behind this new brand, it is near certain you will be getting a quality tent that will last for years.
If this is your first time camping and you are not sure how much to spend. Any of the twenty-nine tents mentioned above would make a
great choice without breaking the bank.
You can compare all the tents listed above, side by side in an
Interactive Comparison Table