2017's Best Small Tents Examined
Page Sections:
Top Rated
|
Best Value
|
Largest
|
Cheapest
|
Most Popular
|
Best small tents
The tents on this page will accommodate small families of 3 - 4 people.
Even though they are not designed for large families quite a few do have over 6' of headroom. Square footage along with price can vary a lot.
Larger Families Click here
Sizes range from 16 sq feet up to 65 sq feet
Prices start at $39.99 and max out at $747.05
Skip straight to the best of the best small family tents page section.
Top rated small tents
14 of the tents score more than 4.7 out of 5.0. Eight of those have less than 5 reviews. Of the remaining 6 the
Mountaineering Meramac 3
made by
Alps
scores an impressive 4.5 Of all tents described as suitable for 3 people the Meramac 3 is one of the largest with 49 square feet. The only thing that could possibly be considered a negative, is the headroom with only 4' 9" this tent is designed primarily for just sleeping in.
One of the smallest and top rated tents is the Limelight 3
"in the video above"
made by Marmot. This is the type of tent, which would be suitable for a very small family considering a hiking or cycling trip, due to its weight and size.
Marmot
has a reputation for producing quality tents, it would be difficult to find a single bad review for any of the tents they make. Quality comes with a price though, at a little less than the MSRP of $400
this is not a tent that would be suitable for an average family going camping.
Small tents with big discounts
One third of the smaller tents suitable for small families are discounted more than 30% a couple have poor ratings, another 6 have less than 2 reviews, that still leaves 6 tents which are discounted nicely. Both Coleman's Sundome 3 and 4 are deeply discounted and get very good ratings, they also have lots of reviews. Choosing between the two is easy, the larger
Sundome 4
is only a few extra dollars for 25% more space. Priced well below $100 this is a great tent for small families on a budget.
The
Recluse Lightweight
with lots of reviews 64 in all, and better than average ratings of 3.6, makes it a nice big tent for a small family.
The last time I checked, Jun 27th, 2017 it was discounted $120.05, to $109.94, at this price it is excellent value for the money.
The only negative thing that needs pointing out, is the headroom is only 4 ft. 02 in.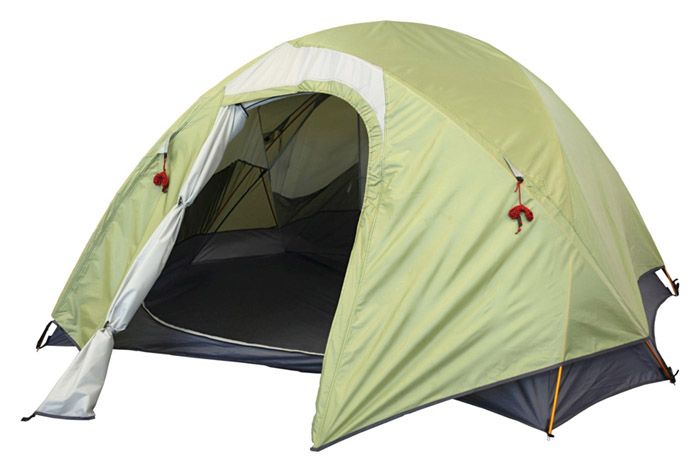 Alps has two tents nicely discounted the Meramac 3 mentioned
above
gets awesome ratings. The
Mountaineering Extreme 3
does not do as well in all areas, to be fair it is a better quality tent and one that you can use when its snowing "if that's your thing" It is nicely discounted but still a decent chunk of change when compared with the most popular tents used by the average family.
The last is the Instant 4 the smallest in a line of three tents introduced by Coleman quite recently. It is very popular tent with lots of buyers and decent ratings!
Am I fan?
You can read more about the pros and cons on a page dedicated to Coleman's instant tents
here
The largest small family tents
For a small tent the Big House 4
as the name suggests is a big tent, with a sleeping area of 64 square feet and an impressive 6' 8" of headroom smaller families will have a lot of space on long camping holidays.
Big Agnes
continually bring out quality tents that get excellent ratings, this tent is no exception. If you have a budget upwards of $200 the
Big House 4
will guarantee you and your family many years of trouble free camping.
Eureka is best known for its Copper Canyon model,
available in 4 different sizes. The smallest is the
Copper Canyon 4
It also is a big tent for smaller families. Seven foot of headroom throughout the whole tent is a luxury not found in many tents. Reviews and ratings for all sizes are excellent.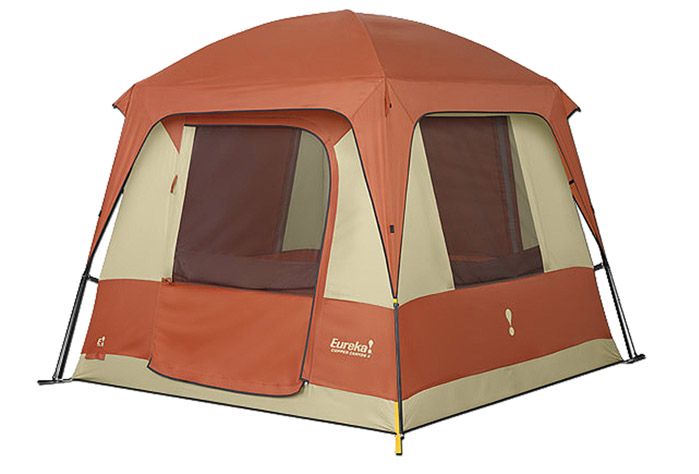 Coleman's Sundome 4
is another large tent in the context of this page, even though the headroom at only 4' 11" is not on a par with the other two tents above, retailing at a lot less than $100 the difference in price more than makes up for less headroom.
Small tents under $100
All of the small tents that retail below $100 are covered in detail, on another page devoted to tents
under $100
The best selling small tents
Coleman makes the top 5 best selling small tents. The best selling
Sundome 4
is also the third best selling tent of all tents on this website. Kelty's
Trail Ridge 4
is a popular choice. It is an easy to setup dome tent with 5' 11" of headroom and a decent 55 square feet of sleeping area, with lots of reviews and excellent ratings it would make a great choice for smaller families looking for a quality tent around the $200 mark.
The best small tents for camping
For those people looking for
a tent on a budget
the
Sundome 4
takes some beating currently priced at $58.36 it is so far ahead of the competition in all areas no other tent gets close. Its only drawback is headroom 4 ft. 11 in.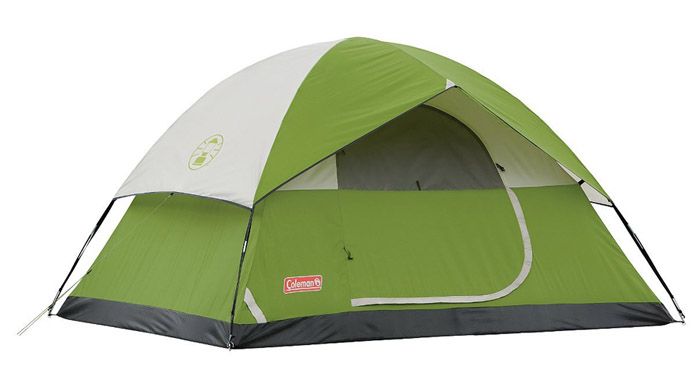 If you want more headroom
on a budget the next choice would be the
Acadia 4
pictured below. Large enough to stand in, along with a small vestibule area it is quite a lot larger than the Sundome 4 and only costs an extra $84.1 Scoring well in all areas with 90 reviews it represents good value for the money, for those searching for a decent sized tent.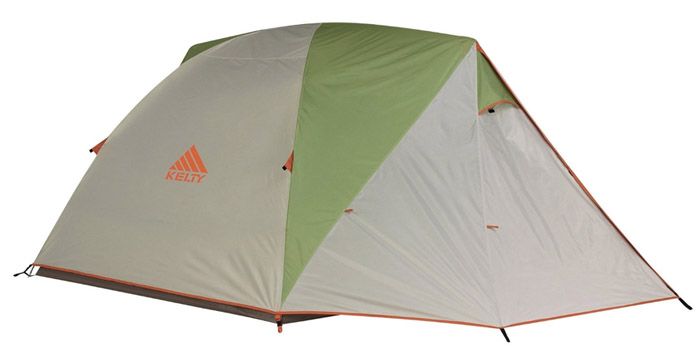 Best of the tents in the $200 and above range is the Big House 4
pictured below. Large in size with plenty of headroom this tent will offer you and your family many years of problem free camping. With 33 reviews and an average rating of 3.9 the only question you need ask yourself, is whether you are in this for the long haul, going on lots of camping trips in the upcoming years?
If you are sure you will get the use out of it, the money spent will be well spent on the
Big Agnes Big House 4
The tent can be bought with or without the optional vestibule, which adds another 37 square feet.
Do not forget that you may quickly outgrow this tent
if you currently have a very small family comprising of very young children.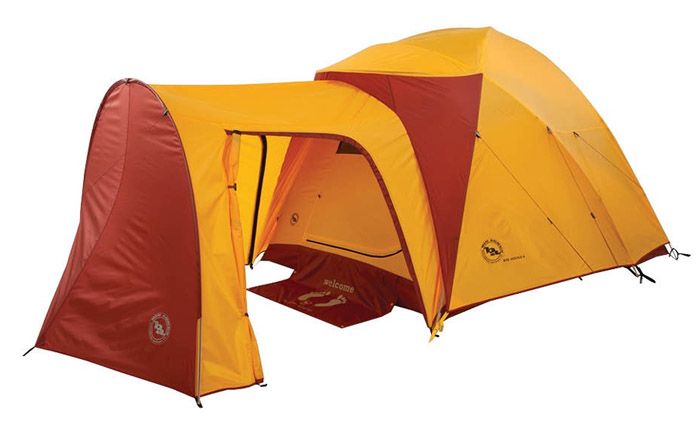 You can compare all the small family tents above side by side in an
Interactive Comparison Table