Why choose a Coleman tent for your family?
Page Sections:
Instant Tents
|
Sundome Tents
|
Montana Tents
|
Red Canyon 8
|
Evanston Tents
|
Cabin Tents
|
Hooligan Tents
|
Cold Springs with Porch
|
Elite Tents
One reason to choose a Coleman tent would be:
They consistently outsell the four manufactures combined, listed below. The top twenty best selling tents on Amazon often contain half made by Coleman.
Considering the popularity of the brand I thought it worthwhile to take a look at all of the models side by side. Coleman's website had 28 tents for sale,
http://www.coleman.com/tents
when I first started to research more about them in 2013. The company started to gain interest in 2006 and now have a considerable following. Coleman have added other models during the last few years, without retiring any of the original favorites.
A few of the 28 tents
are too small to be considered family tents and a few more looked like they are last seasons. That left 20 of them to review, the smallest are 3 person tents, the largest are designed for 10 people.
The 20 Tents Include

3 Instant Tents
6 Dome Tents Sundome and Evanston
7 Modified-Dome Tents Montana, Hooligan and Evanston Screened
3 Cabin Tents Weathermaster Models

Eight different models are currently in production:
Instant Tent:
One of Coleman's recent additions is the Instant Tent. It sets up in under a minute and breaks down in less! Watch this
video
to see just how easy it is to set up. Prices start from around $130
for the
4 person tent
increasing significantly for the
8 person version
Square in shape, it offers a lot of headroom over other styles. All three occupy places among the best selling tents on Amazon. All have great ratings at the time of writing this. Users are very impressed with "just how quick and easy they are to set up and break down". Of the three, the smallest is small, very small. Compared to the other 19 Coleman tents reviewed, it is the 2nd smallest in square footage at just 56 sq feet. Center height is not much better at 4' 11". Users still love it though and it probably has a place as a two person tent, or for a family with a very small child.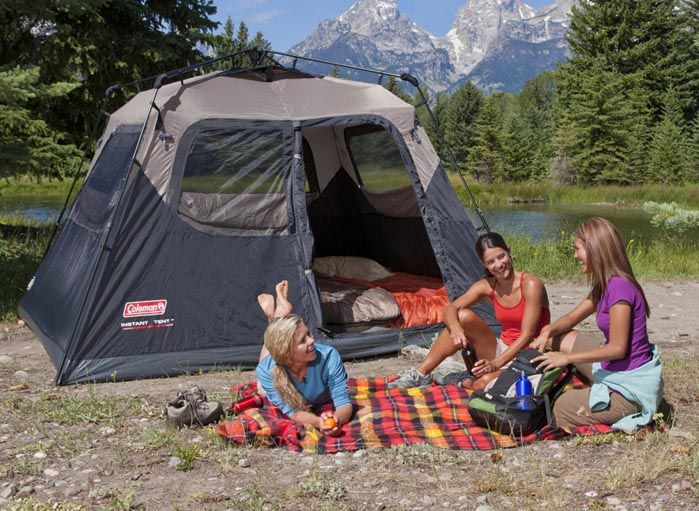 Sundome Tents
The Sundome is Coleman's entry-level small tent. The
4 person tent
is affordably priced at $58.36
and the largest for
6 people
is just $23.76
extra. Smaller sizes do exist. With excellent ratings for both, they represent great value for money. Both are ideal for first time campers not wanting to spend a lot of money. Of the two, the 6 person gets my vote. A few extra dollars gets you considerably more space. The
6 person elite sundome
pictured below is the deluxe version of the standard sundome model.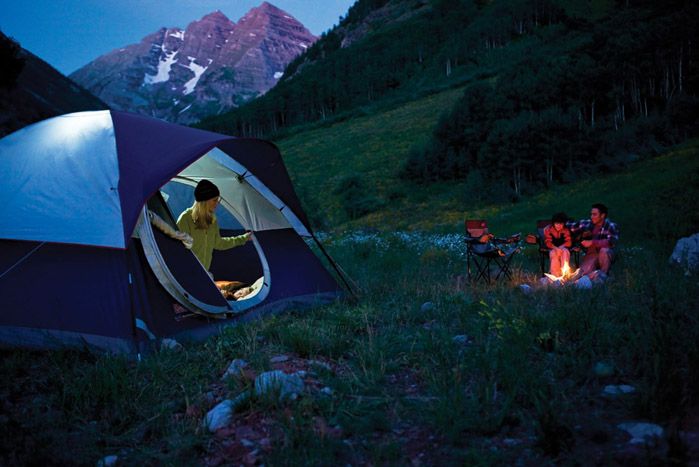 Montana Tents
The Montana is very popular with the
8 person tent
often occupying a spot in the best selling camping tents on Amazon. With a decent overall score of 84% Campers are loving it. The
6 person tent
also has some of the best ratings of all 19 tents reviewed with an excellent overall score of 84%
Considering the larger one is only an extra $22.00
With an extra 28 square feet and 6" of headroom. It is an easy choice which one to go for. The 8 person tent also has a hinged door & is discounted 39% to $141.14
making it excellent value for money at the current price.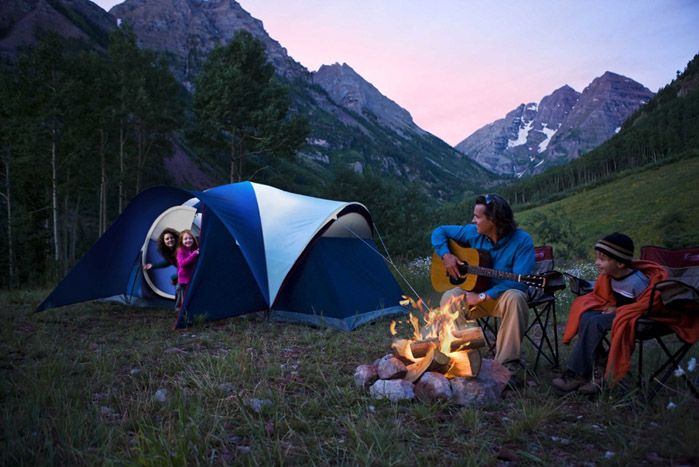 Red Canyon 8:
With more than 1500 reviews and an overall score of 84% the huge Coleman Red Canyon 17-foot by 10-foot tent needs mentioning, even though I'm unable to find it on Coleman's website. It is a very cheap tent when compared with other models like the Montana
above
which is only 2/3 the size and costs about the same.
Reading through some of the less favorable reviews you can quickly see that this is an ideal tent for those with a very large family,
"possibly going camping in the summer for the first time, who do not wish to spend a whole lot of money"
The Red Canyon is not as good as a lot of the other tents on this page, which is quite normal considering it's price, only $136.73
. If you do not need a tent this large stick with one of the smaller tents like the Montana
above
or the Evanston
below
, which are only an extra, few dollars. It is available in two colors red and navy. I have a suspicion after reading the reviews that the red one is the older model and the navy one is a newer version that is not quite as good. Due to it's "price to size" the
Red Canyon
is best kept for summer camping during warmer months only.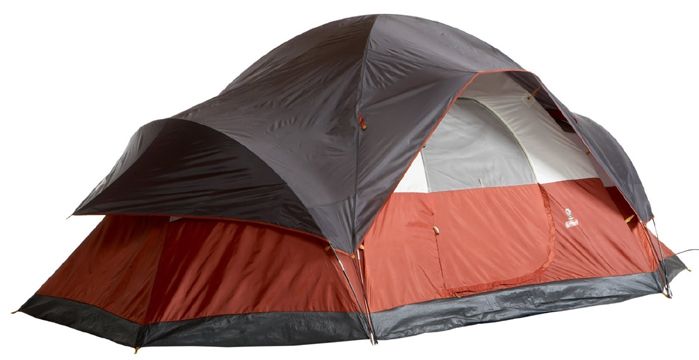 Evanston Tents
Unlike other models the Evanston has two different types, one has an extra-screened porch area. The extra-screened area is a big plus. Price wise the difference is only an extra $10 or so and you get extra footage 20 sq. feet on the
6 person tent
and 36 sq. feet with the
8 person tent
The larger screened tent gets some of the best rating of all Coleman tents.
The smaller non-screened gets one of the worst ratings. The only thing that is not as good with the screened version is center height. Both of the screened tents lose 4 inches of headroom.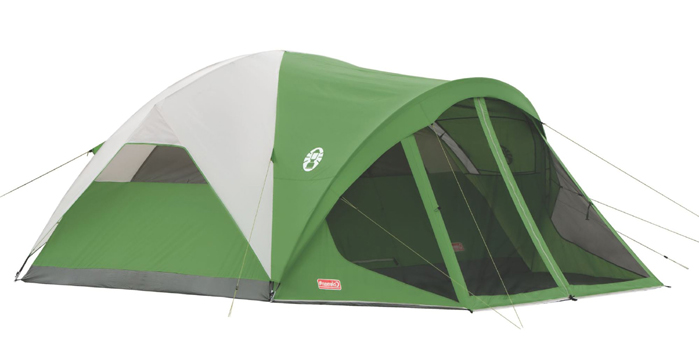 Cabin Tents
The
Octagon 98
is Coleman's largest cabin tent. Designed for 8 people, 169 sq. feet and 6'10" headroom makes it a decent sized tent. This is one of the few instances that I would say, "smaller is not always worse" This tent offers a lot of the extras slightly bigger tents do not come with.
Both the slightly smaller
Weathermaster 10
and 6 person with porch versions also offer outstanding value.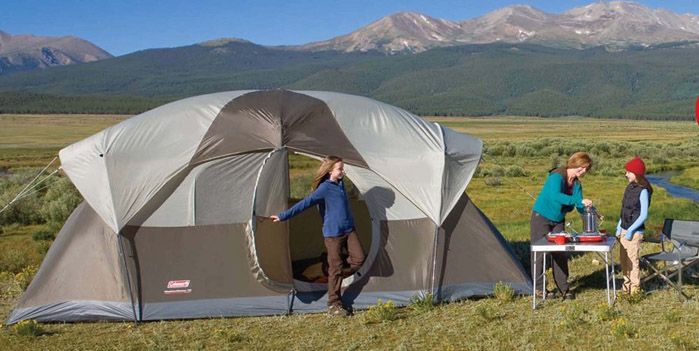 One of the most popular family size tent on Amazon, the
WeatherMaster 6
looks attractive mainly because of the screened porch area, currently discounted 40% to just $176.99
it is worth considering if your looking for a large cabin tent. I have devoted a whole page to the
WeatherMaster model
highliting the pros and cons.
Hooligan Tents
This model only just made it into the list of tents, because it could also be considered a backpacking tent. The
Hooligan 4-person
tent is not the smallest tent in the list. It is bigger than the Instant 4 and the same as the Sundome 4. For those wanting to hike or cycle in a small group, it is a reasonably priced option at $73.99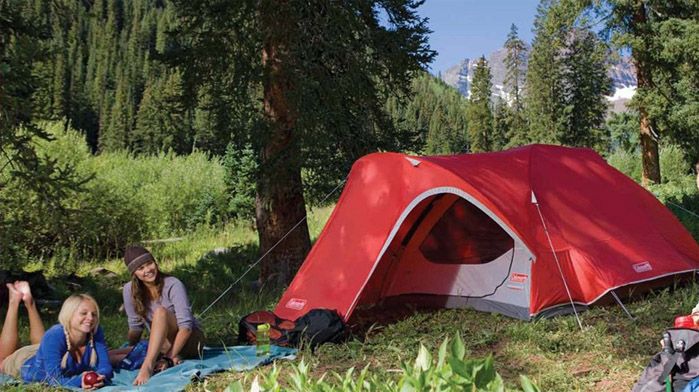 Cold Springs with Detachable Porch
Like the Hooligan above this could easily be used by a couple of people who have a bias towards the outdoors and enjoy cycling or using a motorbike. It is not too heavy at 14lbs, if both cyclists are sharing the weight. It represents great value for money, when you see it is priced at $98.36
Coleman introduced this tent at the end of 2014, since then it has received good reviews and ratings, with no reports of any major problems.
Ready to use straight out of the box, makes the
Cold Springs 4
a great tent for cyclists or a couple with a motorbike. Included in the price is the detachable porch to put your bike under shown in the picture below. Along with a rainfly and the illumine reflective guy lines, that seem to come with all Coleman's newer models.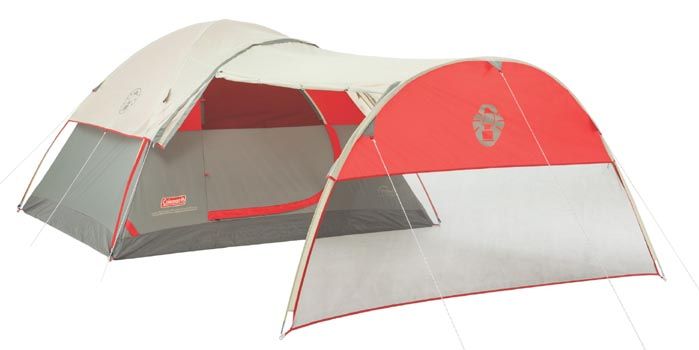 Coleman Elite Tents
Four of the above models come in an Elite version. They are easy to identify when browsing because they are all dark blue in color unlike any other Coleman tents. These tents are very similar to the standard versions. They do though come with a few extras, hinged doors and built in lighting for all four models. Aside that each model has pros and cons. The additional qualities of the elite tents can be seen in the video below.
Elite tents only come in one single size for each model
all are different models they are listed below.
Elite Sundome 6
The
Elite version of the Sundome 6
costs $77.87
more than the standard model which is just $82.12
Making it 95% more expensive. Center height is the same at 6 foot. The Elite does offer an extra 20 sq. feet though. It's overall score at 84% is good. If you are looking for a medium sized quality tent, in the same price range many others could also fit the bill. Check out some other
6 Person Tents
from different manufactures.
Elite Evanston 8
Except for the hinged door the
Elite Evanston Screened 8
appears to lag behind or equal the base model in all areas. Less standing room in the Elite is just weird compared with other Coleman Elite tents. Square footage is the same in both at 144 sq. feet. Ratings on this Elite Evanston are some of the worst for all Coleman tents. Considering the
screened 8 person version
is $106
cheaper it would be hard to choose this tent based on the data.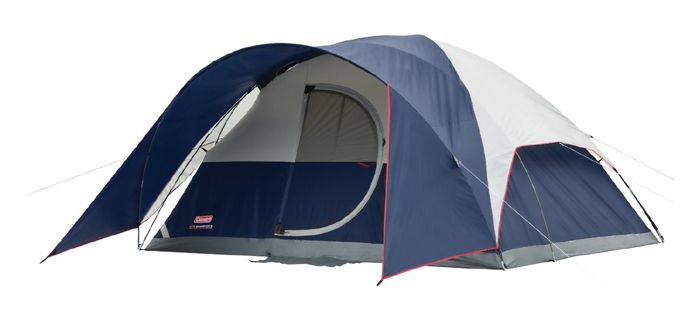 Elite Montana 8
The
Montana Elite
only costs a little more than the base model priced at $141.14
Standing room is again the same at 6 foot 2 inches in both. You gain an extra 16 sq. feet with the Elite. The standard and elite version have identical overall scores. All in all the Montana Elite is worth spending an extra few bucks on.
Elite Weathermaster 6
The base model and
Elite Version
are identical in all areas, both get good ratings. As the standard Weathermaster 6 with porch has a MSRP of $299 it makes sense in this case to pay the extra $10 to have the Elite Version. I personally like tents with enclosed porches, the extra space is always a plus, the idea of using it as an extra room for the kids, on dry summers nights seals the deal for me. If your looking for a quality tent, with options for a little more privacy, this tent could work, discounted currently to $186.37
on Amazon
"the last time I checked, Jun 27th, 2017"
it a safe simple choice for a quality tent.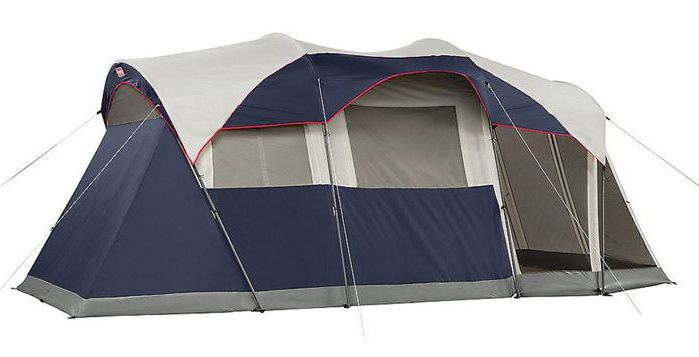 Coleman tents make an excellent choice for first time campers.
They offer great value for money 2-3 season tents
that have been tried and tested by thousands of users, over many years.
You can compare all the tents on this page and more, side by side in an
Interactive Comparison Table