2017's Best Modified Dome Tents Examined
Page Sections:
Top Rated
|
Best Value
|
Largest
|
Lowest Prices
|
Most Popular
|
Best Modified Dome Tent
You can think of modified dome tents as a cross between your basic dome tent and a cabin tent.
They are for the most part easy to setup like dome tents, and some are much larger than your average cabin tent. Modified dome tents come in a huge array of sizes and prices as you can see below.
Sizes range from 45 sq feet up to 180 sq feet
Prices start at a little under $75.00 and max out at $853.56
Skip straight to the best of the best modified dome tents page section.
Top Rated Modified Dome Tents
One of the 34 tents have great ratings and more than 5 reviews. All three of the Big Agnes Flying Diamond 3 season tents get awesome ratings! The
4 person version
"mentioned in the video above"
is a quality tent with onl 4 feet 8 inches of headroom if you do not need a lot of space it would make a great choice. Choosing between the Flying Diamond 6 and the Flying Diamond 8 is quite simple the larger of the two is not that much bigger, it is though a lot more expensive. Families with 1-2 kids and a budget of around $450 looking for a tent that will last for many years, can consider the
6-person version
.
The
Flying Diamond 8
is a lot larger and could be ideal for four or five adults. Big Agnes describes it as a
all-season two room condo
Considering it's price tag is just under $700 you will be pleased to know the tent lives up to expectations, keeping you dry in all types of weather conditions. Expensive compared to the 6-person version yes. Compared to other tents of this quality not really. If your in this for the long haul it is a safe bet.
Core's
Extended Dome 9
is the largest of the one. Ideal for car camping this tent could work for very families with a couple of teenagers, wanting to experience camping for the first time without breaking the bank.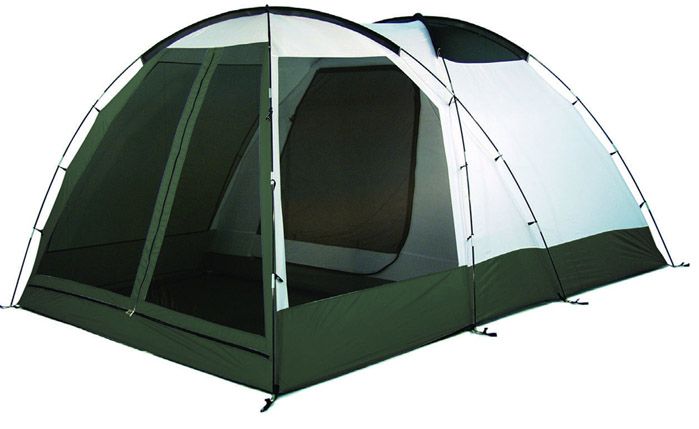 Chinook
makes the
Twin Peaks Guide 4
"pictured above, without the included fly sheet"
it comes with aluminium poles. Unlike most other 4 person tents this one could actualy sleep 4 With enough room for two queen size mattreses in the sleeping area and a large vestibule capable of seating 4 around a table, make it larger than a lot of 6 person tents. Retailing for a little under $400 makes it an excellent choice for small families looking for a quality tent to take on long camping trips.
Chinook
offers a limited lifetime warranty on all it's tents. It only has a couple of reviews, both give it good ratings.
Modified Dome Tents With Big Discounts
Huge discounts do not automatically equal great deals, seven modified dome tents are currently discounted more than 35% Four are discounted $200 or more. Three are made by Kelty the Shiro 6 and
Shiro 4
both look like bargains at this price with only a couple of reviews for the
Shiro 6
one perfect and one not
it would be a little bit of a risk investing in these tents.
Kelty's
Pavilion
is also discounted nicely, with only a few reviews that are quite average, this tent does not look like good value with so many other tents performing well in the same size and price range, even without discounts.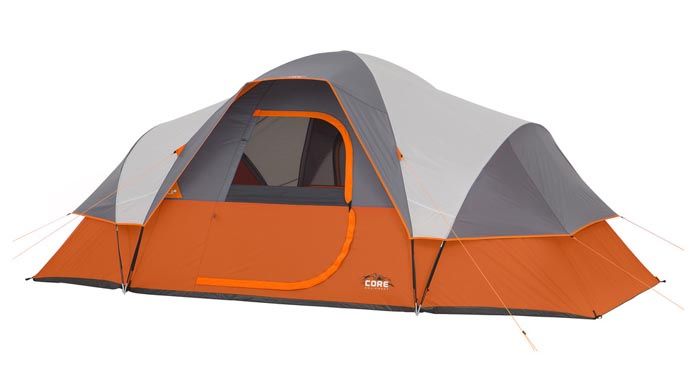 The 144 sq ft
Extended Dome
from Core Equipment "pictured above" also scores well with more than 50 reviews, it is nicely discounted with good ratings.
Many small proven quality tents are also available, two are covered in the first section of this page one is made by Alps. Lastly two tents that do have lots of reviews both made by Coleman. The
Evanston Screened 6
gets good ratings and is a very popular tent, currently priced at around $150 it's one of the best deals today for families with 2 children or less not wanting to invest a lot.
The
Hooligan 4
could be considered more of a backpacking tent, unlike the other tents on this page, on the small end its roomy but does not always get good reviews, the main complaint
"from a few people"
apears to be; the material used is of poor quality. Apart from this most other people do not have any problems and give it good ratings.
The Largest Modified Dome Tents
20 of the tents have a footprint larger than 100 sq. ft. nine of the other 20 tents have less than 5 reviews another five have average to poor ratings. The remaining five all have good ratings and lots of reviews. The
Grand Pass Family Dome
scores incredibly well, it is the cheapest and largest of them all, it also out sells the others and unlike most tents is not often discounted. All in all a truly remarkable large tent, you can view a video of this tent below.
The
Flying Diamond 8
is a top class quality tent. It's a small tent though for eight people, for smaller families it can work well and will feel quite roomy. The price may discourage some, at a little under $700 Even though it is right at the top end of the price scale it is worth noting
Big Agnes
makes tents that last for
"years upon years"
If your in this for the long haul the investment may just be worthwhile, when considering this may be the last tent you will ever need to buy.
The final two are not only large they also have excellent ratings. Coleman's
Evanston Screened 8
along with Core's
Extended Dome 9
have all been covered above in the
best rated section
of this page.
Modified Dome Tents Under $199.99
17 of the tents retail for less than $200 "after discount" Half of these get below average ratings another three have less than 3 reviews. Of the five that are left the
Mountaineering Extreme 3
is the smallest. It is currently discounted more than $100 leaving it with a net price of just under $200 with great ratings it is a quality tent that would serve a very small family on a hiking or cycling trip.
The
Evanston Screened 6
is the cheapest of the modified dome tents with great ratings and lots of reviews. A little small for six, is the only thing one would question about this tent, at its current price it is one of the best value for money tents on this website for families of four or less. The
Montana 8
is actually smaller than the Evanston Screened 6 This is another good example of how
"looking at the "advertised" number of people a tent should sleep"
has little relevance on the tents true size. In this case the problem is highlighted by the fact both tents are made by the same manufacture.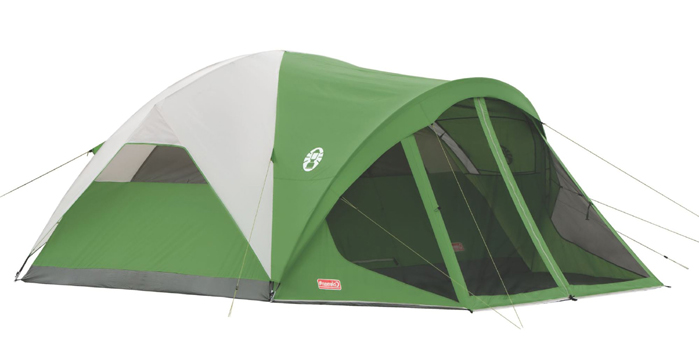 The last one is priced under $200 it also has excellent ratings. Coleman's
Evanston Screened 8
"pictured above" has also been covered above in the
best rated section
of this page.
The Best Selling Modified Dome Tents
The
Montana 8
"pictured below" made by Coleman is the best selling modified dome tent, with 6' 2" of headroom and 112 sq. ft. of sleeping space it is a tent, ideal for smaller families of 4 - 5 The 380 reviews are for the most part excellent. Easy to set up and priced under $150 this tent makes a great choice for a first tent. You can watch a video and see just how easy it is to set up
here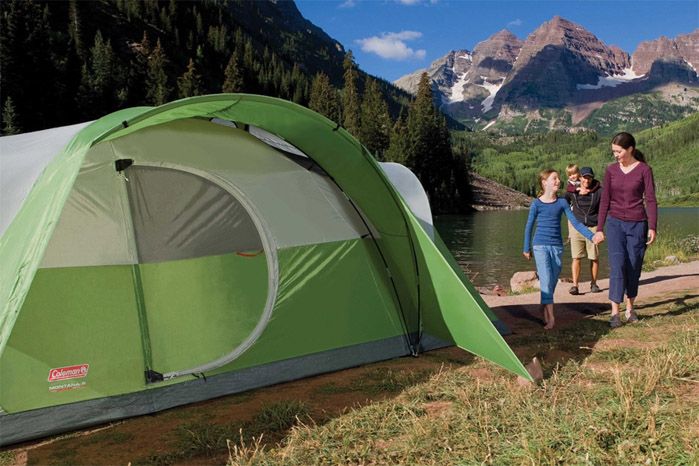 Mountain Trails make the
Grand Pass Family Dome
it sells very well and gets excellent ratings. It is also one of the largest tents available today and would suit larger families with three or four children.
Another three tents sell very well Coleman makes all of them. The
Evanston Screened 8
and 6 are both very popular. The larger is very large with 140 sq. ft. and would suit large families looking for a first tent. The
Evanston Screened 6
is excellent value at its current price
"a little over $150"
Lastly the
Hooligan 3
has lots of contented owners, it's a small tent and only suitable for single parent families with one or two small children, or two parents with a very young child.
The Best Modified Dome Tent For Camping
The
Grand Pass Family Dome
"pictured below"easily ranks as one of the best modified dome tents available today. It is large enough for any conventional sized family "some will have more space than others" Priced to sell and with great reviews this tent is a safe bet for any large family looking to spend a lot of time camping.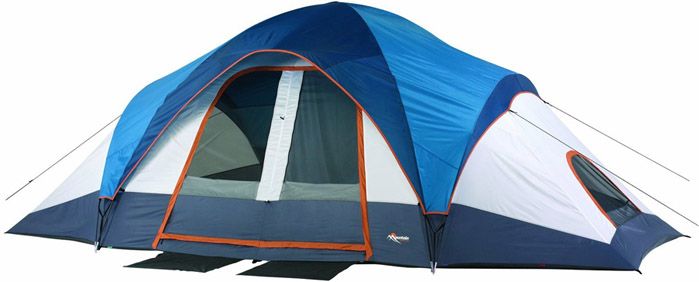 Kelty's
Acadia 6
fits nicely in to the mid sized range. Priced at a little over $200 it is a great tent for families of 4 or less looking for a quality tent that will last for more than a few years. For those looking for a small tent the
Limestone 4
made by Marmot rates highly in all areas lacking in nothing. All this comes at a price though it is currently priced at a little under $300
In the end the best modified dome tent is going to be the one that suits you, your family and your pocket best.
You can compare all the modified dome tents side by side in an
Interactive Comparison Table: