What are the Best Cabin Tents to buy?
Page Sections:
Top Rated
|
Best Value
|
Largest
|
Lowest Prices
|
Most Popular
|
Best Cabin Tent
Cabin tents have more headroom than other types of tents.
Of the 29 Cabin tents reviewed, all have at least 6 feet of headroom some even have 8 feet. Price and Size also vary considerably as you will see.
Sizes range from 64 sq feet up to 256 sq feet
Prices start at $87.63 and max out at $749.00
Skip straight to the best of the best cabin tents page section.
Top Rated Cabin Tents
Kodiak's
Canvas Flex Bow Deluxe 8 has more than 150 reviews and still has an amazing 96% overall score. Both smaller sizes also get lots of great reviews and score very highly. As the name suggests it is a
deluxe canvas tent.
If your ready to invest in a quality tent the large
Canvas Flex Bow Deluxe 8
reviewed in the video above will keep you and your family dry for many years to come.
The
Blue Ridge
manufactured by Wenzel scores very well with an overall score of 80% With more than 100 reviews it's easy to choose this tent based on the number of excellent ratings it has received. It is also
one of the cheapest cabin tents currently available
, discounted to a little under $110
it makes an excellent choice if you are looking for a large cheap cabin tent, that will not break the bank.
Family Cabin Tents With Big Discounts
Quite often the tents with the biggest discounts are those with the poorest ratings.
One that has great ratings
and lots of reviews is Wenzel's
Great Basin
Discounted 32% this tent is a great for campers looking for a big tent under $175
Trek
have a history of making quality tents. The
Canvas Cabin 246c
is currently discounted right around $80 It is also one of the largest all season tents available on this website. It is well suited for organizations catering to large groups wishing to camp all year round.
In the video from TheTravelersTravels below
you can get a feel for Trek's smaller Canvas Cabin 245c. Except for the size of the slightly smaller floor area and "weight" they are basicaly the same.
The Largest Cabin Tents
If your looking for a large cabin tent, the
Copper Canyon 12
could just fit the bill. With 168 sq feet of living area and 7' of head room the tent is truly large and should accommodate most large families easily. Two rooms is another plus.
Eureka
is a well-known brand that has been around for many years. Campers rate the tent highly, stressing how easy it is to setup.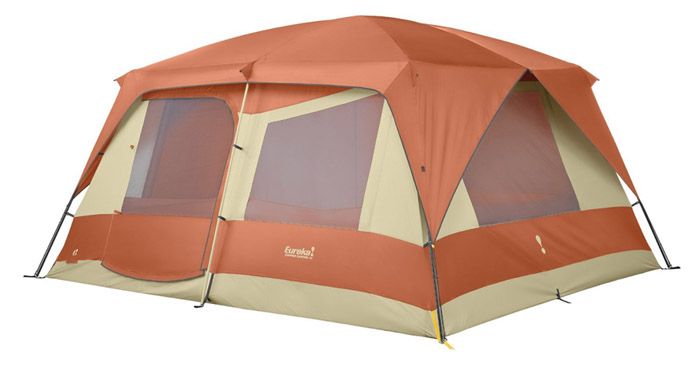 Two other tents are worth mentioning.
The
Ozark Trail 12
is a really big tent with 256 sq ft, it is considerably larger than the Copper Canyon 12. Both are normally around the same price. At present it has more than 50 reviews with an overall score of 78% making it a good choice compared to others, if your looking for a huge tent.
Coleman's Canyon Breeze was the largest of all cabin tents with 228 sq feet, before the Ozark Trail 12 mentioned above came on the market. Quite often I will go with a larger tent if it is just an extra few dollars and equal in everything else. In this case I just cannot see the advantage of having another 60 sq feet unless your using it for some type of
event tent.
The reviews are not great and the tent lacks many of the extras other Coleman tents have for the same price.
Family Cabin Tents Under $200
Two tents made by Wenzel fall into the under $200 group. The first is the Great Basin, it scores well in all areas. The other is a lot smaller and a little more expensive, considering its size. The smaller
Blue Ridge
pictured below, has more than 150 reviews with great ratings.
Of the two, the larger, more popular and deeply discounted
Great Basin
looks like a better choice.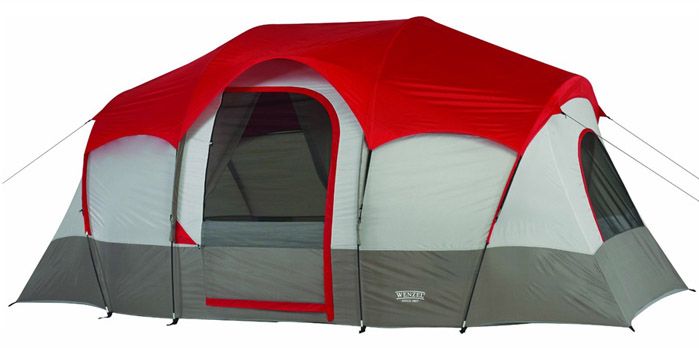 Another is the
Copper Canyon 4
that is occasionally discounted below $200 This tent is the smallest of all cabin tents and is the main reason why it is on the cheap end of the scale. For a very small family of three or a couple using a queen-sized air mattress this is a great tent. It scores very well in all areas, as do most of Eureka's tents and will last you for many years.
The Best Selling Cabin Tents
Coleman's Weathermaster + Porch is the best selling cabin tent, it excels in all areas. It fairs a little better than the average ratings for all tents on this website. The Weathermaster 6 reviewed in greater detail
here
has a lot going for it. A
few campers
have had problems with the tent leaking, digging deeper a lot of those people that give it a perfect rating talk about how they waterproofed the tent before using it. Non of these campers appear to have had any problems and many describe how the tent survived quite harsh conditions and remained dry.

One of the most popular new brands today that started out in early 2016, is
Core Equipment
In just a few months they had taken an incredible share of the market. Their flagship model the
"Instant Cabin"
is offered in three sizes, the smallest of which is 99 sq ft
designed for 6
the largest
"pictured below"
is
designed for 12
with 180 sq ft, it offers a lot of space without reqiring a huge investment.
This tent out sold all other tents, which could be considered similar in size, on www.optimumtents.com during 2016.
At the start of the 2017 season it continues to perform well.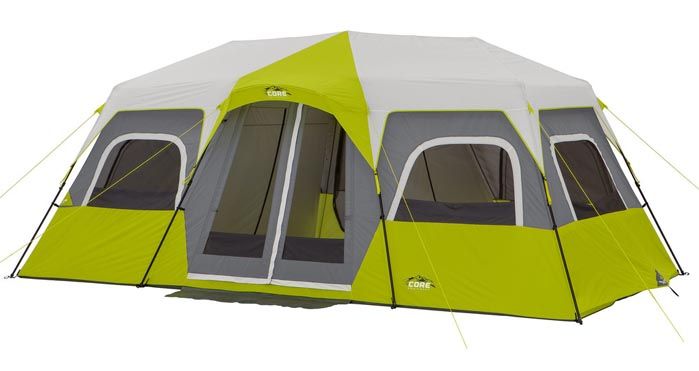 The Best Cabin Tent For Camping
One tent ranks extremely well in four areas and good in the other.
Wenzel's
Great Basin
is easily the best cabin tent for those families looking for a large tent under $175 even if this tent was not heavily discounted it would still be an excellent choice. With the current reduction in price, it is one of the best tents for the money available today.
Jun 27th, 2017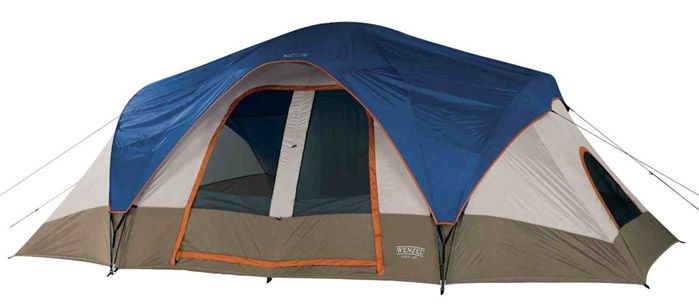 Kodiak's Canvas Flex Bow Deluxe
is another to consider, available in three different sizes it cannot be faulted in any area at all. The
4 person tent
has a MSRP a little under $500 making it a little expensive for its size. The larger
6 person version
has a suggested retail price, that is only an extra
$50 for 40% more space
, making it a much better deal.
If you need a much larger tent the largest designed for
8 people
represents excellent value for a tent of this size, more so when compared with the smaller models. If you have decide to invest in a quality cabin tent you can not go wrong choosing any of Kodiak's Canvas Flex Bow Deluxe models.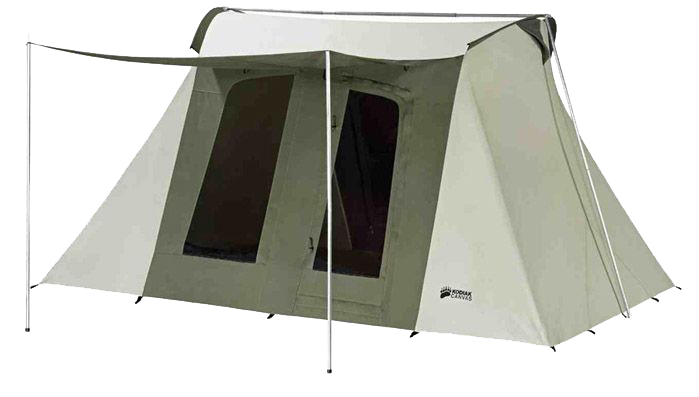 You can compare all the above cabin tents side by side in an
Interactive Comparison Table