What are the best 6 person tents to buy?
It's difficult to pick a single one and call it "the best" due to the fact we all have different needs. Along with the fact I am comparing data points across 39 six person tents, and 12 different manufactures. Current prices can range from as low as $82.12 up to $853.56
Size is also another major factor, they can be anywhere between 80 sq feet up to 150 sq feet
So I divided them up into different groups. This way we are able to compare apples with apples so to speak.
Maybe you are simply looking for a cheap 6 person tent? If so, your in luck. I took all those that are currently under $125 and created a section devoted to the cheapest "this is updated daily" at 6:30 PST


Would you like a lot of space for an extended trip? A few of the tents are bigger than those that are supposedly designed for eight. One of the weird things about buying a tent is that not all 6 person tents are remotely equal in size. Some could even be considered too small for six children. If you need a couple of rooms check out the largest


You can also read about the most popular sometimes a product does not fall into a simple category, it does though have lots of happy owners. Cheap does not always equal the best value often a little extra gets you a whole lot more. Then there are those that just have stellar reviews, for what ever reason they have great ratings and lots of them.


To busy to read through each section? TL;DR Jump straight to the best 6 person tents from each of the groups.
Top Rated 6 Person Tents
Four of the 6 person tents have an excellent score and lots of reviews.
Kodiak's Flex Bow Deluxe 6 Canvas tent
first appeared around 6 years ago at the beginning of the 2011 season. Since then it has not missed a beat getting rave reviews year after year. Chris gives us a two year update in the video above which pretty much sums up all you need to know about this high quality tent and the manufacture. Quality comes at a price though.
The least expensive of the four is an
instant cabin tent
made by
Core Equipment
"pictured below" it sets up easily in a couple of minutes. With 99 sq feet of sleeping room and 6 feet of standing room, it falls squarely in the middle of all the six men tents, when comparing them all by size alone, for six people it could be considered just a tad small, the larger
9 person
version
costs around $80 extra
making it a good deal for those wanting more space and privacy.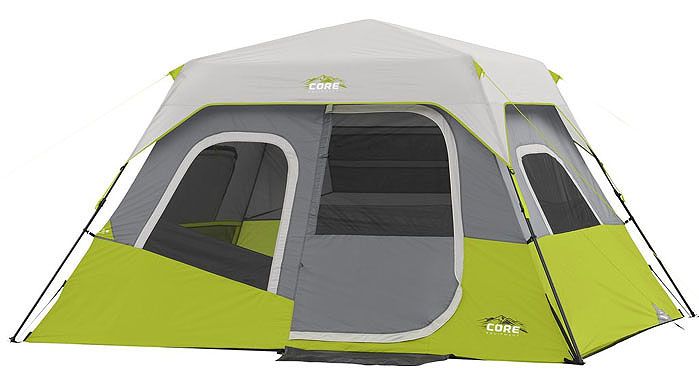 Kelty
is another brand that has a long history of creating quality tents for camping, their
Trail Ridge 6
excels in all areas except size. It is the smallest of the four and smaller than the largest
4 person tents
for two or three people this would be a nice spacious tent. Also worth noting, is that Kelty has discontinued this exact tent replacing it with a newer version that includes a footprint, which previously needed to be purchased separately. For now this older version is still widely available and unlikely to disappoint based on it's history.
Last of the four is one of
Browning's
largest tents. Belonging to the
Alps Brands
group it is easy to see why this tent has grown in popularity over the last few years. I first started to see sales of this tent back in early 2015 Since then rarely a month goes by that I don't see another couple of purchase during the summer months. With sales increasing significantly in the second year as more people get to know about the brand. Browning's
Big Horn
checks all the boxes if your looking for a 6 man tent that's large in size and easy on your pocket.
Another page containing thirty-seven tents in total each with lots of reviews and great ratings,
that I track daily, can be found
here.
All differet types of tents included on optimumtents.com are compared their.
Discounted Six Person Tents Representing Good Value
Yesterday morning twenty-six of the 6 person tents where discounted 20% or more. Needless to say choosing a product based solely on the fact that it has been deeply discounted, can be problematic.
The three tents listed below all have good overall scores, and currently retail for a lot less than the average price per square foot for all the 6 person tents on this website. The most expensive of the three will only cost you $1.83 per square foot. Compared to an average price of $3.03 making it a good deal when discounted.
The discounts mentioned below and above, where calculated yesterday morning

Coleman's Yarborough Pass Fast Pitch 6 discounted 34%


Alps's Mountaineering Meramac 6 discounted 27%


Coleman's Tenaya Lake Fast Pitch 6 discounted 40%


Best of the three above, is the Yarborough Pass Fast Pitch 6 made by Coleman
"pictured below"
Yesterday morning it could be bought for the low price of $131.73
With 5 ft. 08 inches of headroom and 84 square feet of sleeping space, it is smaller than the
largest
6 person tents that are covered below.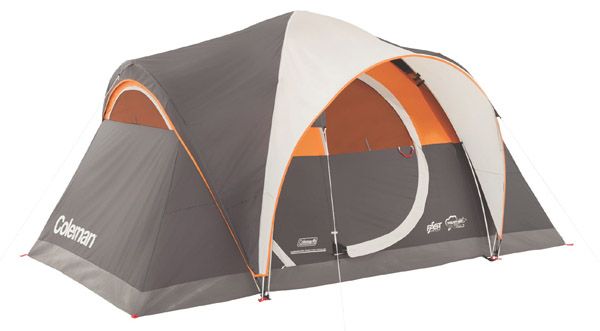 The Largest 6 person Tents
Only 1 of the 39 tents have 125 square feet or more.
In a class of it's own, is Browning's
Big Horn
with 150 square feet and 7 ft. 03 inches of headroom. It's larger than the majority of tents advertised as been suitable for up to 9 people. Two large rooms each having their own doors and windows makes this a great tent for grown ups with children, planning an extended vacation that lasts more than a long weekend.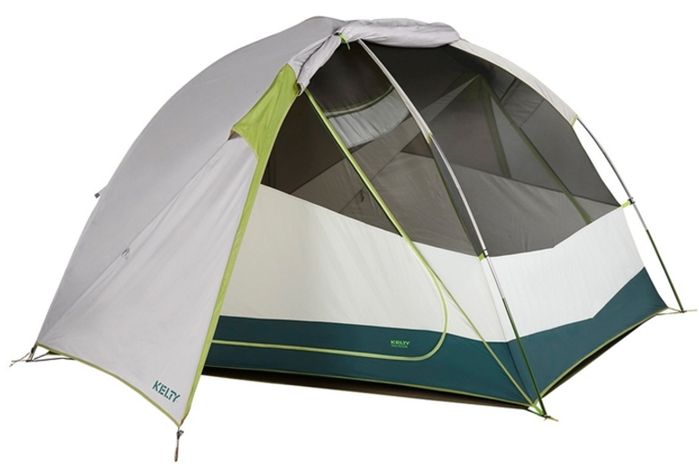 One of
Kelty's
newer three season models, the
Trail Ridge 6 With Footprint
get a honorable mention "
pictured above with it's fly sheet
" In it's self the 6 person version does not warrant appearing in this section, the larger
8 person version
though has 120 square feet and 6'5" of headroom and only costs a little extra.
Both are quality tents for serious campers who have budget of $400 to $500 First introduced in 2016 the model is available in five different sizes, all sizes are getting rave reviews. Its nice to see Kelty including the footprint, so you don't find out after buying the tent that you need to purchase a footprint separately.
Cheapest 6 Person Tents Under $125
Yesterday morning seven of the tents where available for less than $125
Three of these even cost less than $100 Within this group of 7 most score well in all areas, the two "listed below" really stand out from the rest, neither are normally discounted this much, making them both a good buy at their current price. Another that scores well is the
"Evanston Screened 6"
it is covered in more detail below in the
top selling
tents section.
Prices and discounts mentioned above and below in this section, where calculated yesterday morning

Coleman's Steel Creek Fast Pitch Dome Screened discounted 49% to $116.74


Coleman's Sundome 6 discounted 41% to $82.12


One of the three in the cheaper group under $100, is the
Salmon River
2 room tent
"pictured below"
It is made by Mountain Trails a subsidiary of
Wenzel
With 112 sq feet of living space and 6' 9" max headroom in the center.
It is very good value at this price.
It is also one of the largest tents on the market in this price range. New campers not looking to invest much in a tent, that they may only use once, could do a lot worse for considerably more money. The 2 others under $100 are covered in detail on a page devoted to
budget tents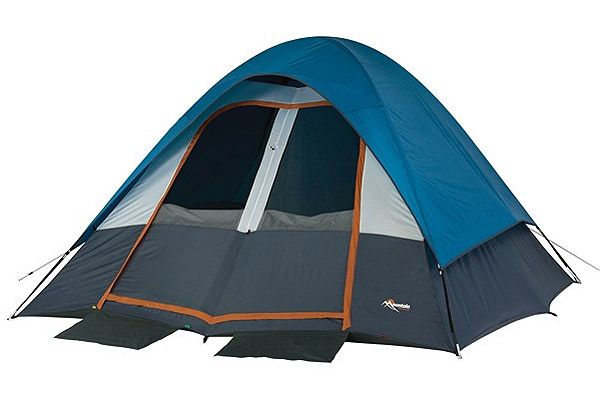 The Best Selling 6 Person Tents
Coleman basically own this section with
8 of the top 10
selling six person tents that are in stock and currently available. It is worth noting that six of eight are in the process of been phased out as they are no longer showing up on the manufactures
website.
2016 saw lots of new models replacing the old favorites.
Head and shoulders above all the others is the Instant 6. I have covered it's pros and cons in more detail on a page devoted to the first generation of Coleman
instant tents
that first appeared on the market in 2011
Second best selling is the
Evanston Screened 6
pictured below. Just one thing keeps this tent from been an amazing tent, that is, it's "headroom" with only 5'8" in the center. An extra few inches would have been nice!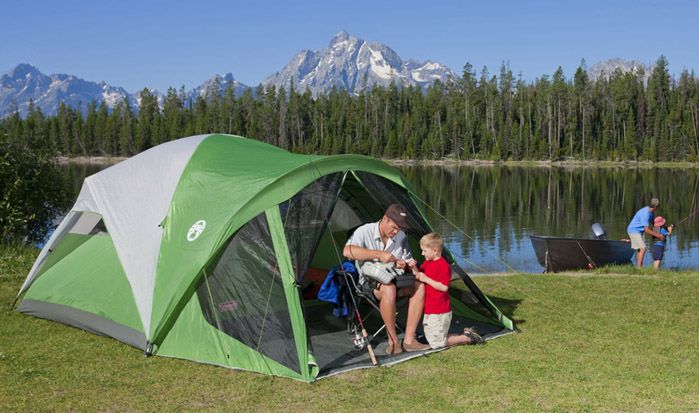 Third most popular, is Coleman's Weathermaster 6 with porch. I have written about it and the "Elite and Standard version"
here
It has a lot of happy owners and a lot more headroom than the Evanston above.

Browning's Big Horn 6 slips into the bottom of the top ten, making it the best selling of all when excluding anything made by Coleman. One other sneaks in and that is Suisse Sport's
Mammoth
It's a popular tent that has been around for quite some time and gets good reviews.
Best 6 Person Tents
It's always hard to single out one tent and call it the best, particularly when you are comparing 39 of them side by side. Campers require different things. With that I have selected five based on the data. These pretty much cover all the areas and should fulfill the needs of most folks.
You can compare all the 6 person tents mentioned above along with others, side by side in an Comparison Table